🚀 Status Update | 14 Nov 2021
⚠️ DISCLAIMER
As this is the first one in series, It will be a bit verbose, because I have to do introduction for all ongoing projects. Thanks.
💡 Introduction
Hi, fellow reader!
So, recently I was consooming a bit more articles, from other programmers and designers, and suddenly I thought why I'm not writing my own thoughts? Basically, this is good idea, for example you get a chance to look back and remember things you have done. But I was a bit uhmm, how to say, kinda shy. Suddenly, my friend at themisir.com also said this is a good idea. So, this is me, Alvan, doing it :D
💭 What is on my mind?
Recently my life got a massive DLC and some very interesting things in it. Let's break that into the pieces.
Basically, these are what I am (will be) working with on:
New remote full-time job
Education oriented startup (w/brother)
IoT oriented startup, where I am IT guy in team
Idea that I'm working on
University exams
Whole curiosity of learning new cool stuff
As you can see, I have to be so stuck and busy all the time, but I'm not LOL. Just today, I have watched 2 animated movies: Wreck it Ralph 2 & Sing (has veery nice musics in it).
Full-time job
That full-time job, is such a pain in a**. No, I'm not afraid of tasks or smth. It is a bit complicated :(
Education oriented startup
Then we have the first startup. It is a mobile app, built for schools and teacher-student relationships. And actually, it's UI Design is almost complete and I'm looking for a mobile developer. You know, in my country, it is not that easy to find one. They are all just coders, coding some e-commerce app over-and-over again. You know, they would do the job, but they need money, and guess what, I don't have that much yet.
Whatever, I'm planning of learning flutter myself, but it will take hell a lot of time. Bc I have whole back-end infrastructure on me also Management dashboard, Mobile app, blah blah blah. OK well, we'll see :)
IoT oriented startup
Ok, that another one, excites my more that others. Unfortunately I can't tell you the details, but that is kinda IoT project of mine. Also the first one.
There are projects which needs a lot of regulation.
Idea that I'm working on
Oh, this project is a bit interesting and requires attention. It will solve a problem for companies and I'm thinking of selling this as an API. But still, this is on very early stage but I have a plan, that hopefully I'll follow. Will be writing more on this as project continues.
Learning new things
For now, I want to learn more about Go.
👷 What I actually did this week?
So, interesting question this is. Let's look at the GitHub activity heatmap:

As you can see, last week was a bit non-coding week. Am I happy? Absolutely no! Do I feel guilty? Indeed, yes! Then why the f* I'm not doing any work? Well, this is all because of that full-time job. I'm drowning in large codebase with no onboarding or whatsoever. I try to understand and use it, but it is slow. Okay, whatever, I'll handle all of these.
Guess what is interesting! UI Design of our startup! I damn like that. This is exactly what makes me excited to work. And I'm looking forward to write posts about that project's development.
Okay, these was excuses of my laziness. I couldn't find exact things that I did this week. But next week won't be like this, I hope :D
🎯 What I'm going to do next week?
Do enough research and a bit coding to make first working example of that idea
Decide who will work on mobile version of our startup
Write actual code for this startup
Wait for other elements to continue working on this project
Watch some Disney movies (Idk what are these called. Pixar movies? just movies? Whatever.)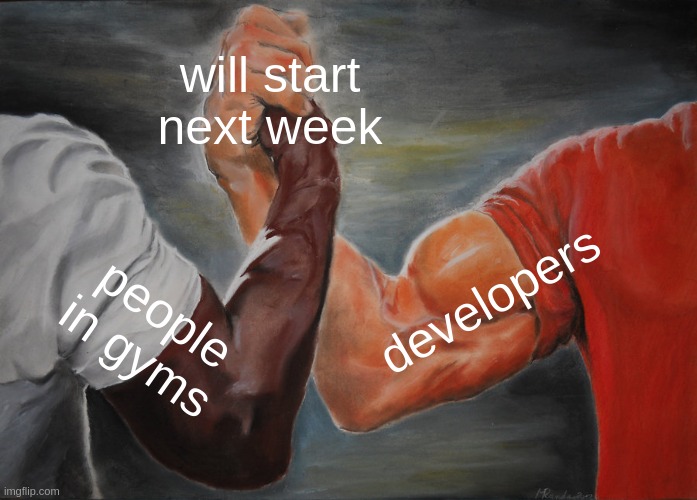 🎁 Bonus links
Thank you very much for bearing with me until here ❤️